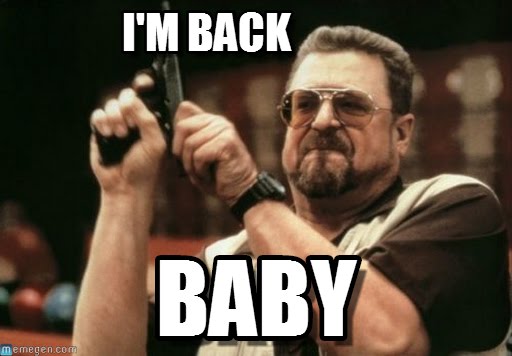 All APOLOGIES
It has been quite awhile since I was publishing anything. I couldblame many things like the birth off my son, absurd hours being worked for my former employer, travel, etc. Those are excuses. The truth is, I actually HAVE been writing, just not publishing. I have many posts in semi-finished form. Over the next month, my goal is to finish them and publish them. You deserve better, I will be better. Maybe.
Life Update
Back in May 2015, I quit my job at Tech Data. There were may reasons, but it came down to doing what is right by my family. I was running the number one strategic initiative for a fortune 500 company, and it really took its toll on me. Somehow, we ended up in arrangement where I would work 3 days a week or the next 4 months to help with the transition. This time was great. I was still being paid, working fewer hours, was able to see my wife and son more often, and really gave me time to figure out he next thing in life. Alas, the arrangement was not working out for either of us. So on September 10, I said my goodbyes and walked right into a new era.
During those partial weeks, I established two new ventures (well 3, but we are not talking about the stealthy third one yet). Pigott Consulting and Pythagoras.
Pigott Consulting is my individual consulting firm specializing in small businesses and startups with full IT service as well as strategic advisement in may areas. Think of it as a part-time CIO. You are interested in these types of services, reach out to me.
Pythagoras is a partnership I formed with a friend who has a stellar IT consulting background. We go after big projects with medium, large, and enterprise clients. Our advantage is that we only work with the rock stars of the tech world, which allows us to deliver superior products in shorter time. If you are looking for your project to be done on-time, on-plan, and on-budget, we would love to hear from you.
My experiences in setting up corporate entities, setting up my office, getting my professional tools setup, and learning new techniques should provide ample fodder for future blog posts.